The First All English Newspaper in Kumamoto City, Japan
Exchange emails with a native speaker of English
If you really want to improve your English skills, you should practice exchanging emails with a native speaker. Answer the questions below and send your answers to one of our staff members. You can also practice your speaking by skype or meeting in person.

1. What is something you are really good at?
2. What is something you are not so good at?
3. What is something you like to do?
4. What is something you don't like to do?
5. What country would you like to go to?
6. What country are you not interested in seeing?


Send your answers to someone on our staff. We will correct your English and answer you. Write the staff's name in the subject. Email: bluehillesl@yahoo.com
Male Female
David (USA) Sharon (Canada)
Randall (USA) Lisa (Canada)

Grammar 1
keep up with = to follow something
Ex. Do you keep up with fashion?

1. I keep up with R & B music.

2. I keep up with politics.
3. I don't keep up with fashion magazines.

Grammar 2
keep in touch = stay connected by phone or email after going to different places
Ex. Do you want to keep in touch after graduation?

1. Let's keep in touch after you move to England.
2. Let's keep in touch after you get transferred.
3. Let's keep in touch after you quit.
4. Let's keep in touch after you go off to college.
English Idioms
Idiom 1 - like a fish out of water = being uncomfortable in a situation
Example:
Sam: Did Sean go to the barbeque with the elderly people?
Ben: Yea he was like a fish out of water.

Idiom 2 - hold your horses = wait and be patient
Example:
Jill: Hurry up or we will be late.
Ray: Hold your horses. I'll be there soon.

Idiom 3 - cat nap = a short nap
Example:
Charles: Will you be ready at 4pm?
Rachel: Yes, I'm going to take a cat nap.

Idiom 4 - kill two birds with one stone - do two things at once
Example:
Peg: Did you finish your homework?
Donna: I'm going to take my homework to the laundrymat. I can do it and do the laundry. That way I can kill two birds with one stone.
Asian man: Kara. It's so sweet you got these onesies for all the kids.
Kara: You know he's going to be a heartbreaker, just like his dad.
Lady 1: Oh look. They are like a tiny little baby couple.
Dad: Not to assume. Maybe that's weird for you guys. I'm sorry.
Gay man 1: No, we think it's cute.
Narrator: You love seeing your little one as a future heartbreaker. But what if you don't want to assume your baby is going to be straight?
Now you don't have to. With the new formed this way line by Osh Kosh B'Gosh your little tyke will look adorable with sayings like "future twink", "Lil lez", "Messy DJ" and "in the closet because I can't walk."
Mother: Doesn't he look great? I pray to God my son is gay.
Father: I would love that.
Narrator: Born this way has designs that you will love like wordplay "Rock a bi baby.", "My mommy had a daddy", political statements like "I love milk. Harvey milk. RIP." "Silence = violence ; Crying = hungry", "Alexander Hamilton was a turf." and butch.
Man 1: What is this? A tiny beltloop for a ring of keys. This slays.
Father: Some parents force their kids to wear little sports jerseys. My son can be whoever he wants.
Gay man 2: Imagine boxing a child into something that doesn't feel right? I would hate that.
Lady 1: It's so archaic to pierce your baby's ears for their baptism. Our kids will never have to conform to something they don't want. Thanks born this way.
Lady 2: It looks like they are dating.
Gay man 1: Oh please, they are not exclusive. You know how gay guys are.
Narrator: Born this way by Osh Kosh B'Gosh. Oh relax. It's not like they can read.
From the TV show Saturday Night Live" - comedy

Ohio
Can you guess where I am? I am in the Buckeye State. That is our nickname because we have so many Buckeye trees here. It is called a Buckeye because the nuts from the tree have the same shape and color as that of a deer's eye. A buck is a male deer, so that is why they say Buckeye. We have a State flower, it is a Scarlet
Carnation and our state motto is, "With God, all things are possible." Our State Bird is the Cardinal, which is a beautiful red bird.
This state joined the United States on March 1, 1803 and it was the 17th state to join the Union. Our capital is Columbus, which is also our largest city. Some of our other large cities are Columbus, Cleveland, Cincinnati, Toledo, Akron and Dayton. To the north is Michigan and Lake Erie. Kentucky and West Virginia are to our south. A river also runs along the southern border of our state and the river has the same name as the state. If you guess the river, you will know what state I'm in. To the east is Pennsylvania and to the west is Indiana.
Many famous people are from this state including many U.S. Presidents. John Glen and Neil Armstrong, two very famous astronauts are from here as well, and even the Wright Brothers, who invented the airplane. Thomas Edison, the inventor of the light bulb came from here, too. The world's first city to be lit up with electric lights was in this state and would you believe that the first hot dog came from here also? The hot dog was invented in 1900.
Ohio also has professional sports teams. The professional baseball team is the Cincinnati Reds. The professional basketball team is the Cleveland Cavaliers. The professional football team is the Cleveland Browns.
Have you guessed where I am yet? I'll give you one more clue. The name of this state is from an Iroquois Indian word meaning, "Good River." Have you guessed it yet? That's right! It's Ohio.

The leaders agreed to resume regular visits and resolved a long-running trade dispute. Japan agreed to lift restrictions on exports of semi-conductor materials, while South Korea withdrew its complaint to the World Trade Organization (WTO).

South Korean President Yoon Suk Yeol pulled off quite the coup to get this summit. This is the first time a South Korean leader has been invited to Tokyo for such a meeting in 12 years. The relationship between these neighbours has been plagued for decades by their difficult history. South Korea was colonised by Japan from 1910 until the end of World War Two. Japanese soldiers forced hundreds of thousands of Koreans to work in its mines and factories. Women were pushed into sexual slavery.
These scars, while no longer fresh, are not forgotten nor forgiven here.
But last week, President Yoon dropped the demand that Japan compensate some of the victims of its slavery. He agreed South Korea would raise the money instead. In doing so he sought to put aside the past for the sake of the security of northeast Asia.
The opposition leader branded the deal the "biggest humiliation in our history". But it won President Yoon this trip to Tokyo. Diplomats here are quietly surprised and impressed. They see it as a brave and astute move, especially for a political novice, with no foreign policy experience. Until last year, Mr Yoon was a lawyer.
Since taking office, he has made repairing this fractured relationship a cornerstone of his foreign policy. With nuclear-armed North Korea becoming more dangerous, Seoul stands to benefit from sharing intelligence with Tokyo and having their militaries work together.
He also wants to please his ally, the US, which is desperately trying to draw its partners closer to combat the rise of China. President Joe Biden hailed Mr Yoon's Japan deal as "a ground-breaking new chapter". The next day he sent him an invitation to the White House for a prestigious state visit.
This also signals a fresh chapter for South Korea's place in the world. President Yoon wants to end what he sees as his country's tunnel-vision over North Korea. Instead he is looking outwards, across the Indo-Pacific, at the bigger role South Korea can play. An invitation by the Japanese Prime Minister Fumio Kishida to May's G7 summit in Hiroshima would be a mission accomplished.
There are economic rewards to be reaped too. In 2019, when relations were particularly sour, Japan imposed export restrictions on the chemicals Seoul needs to build its semi-conductors. Getting these lifted was a top priority, briefed a senior government official ahead of Thursday's meeting.
This summit offers a chance to repair years of broken trust. So far Seoul has conceded more than Tokyo. As one senior diplomat put it to me, South Korea has walked across the dancefloor, lights on, everyone watching, to ask its neighbour out. Japan has agreed to dance. But South Korea is expecting more.
Cemeteries in America are in designated places. Instead of having small cemeteries in random places, it is best to have all the dead bodies in one area. Visitors can visit their loved ones at any time. Some cemeteries are so big that the tombstones are placed like addresses. You might need a map from the cemetery to locate your loved one.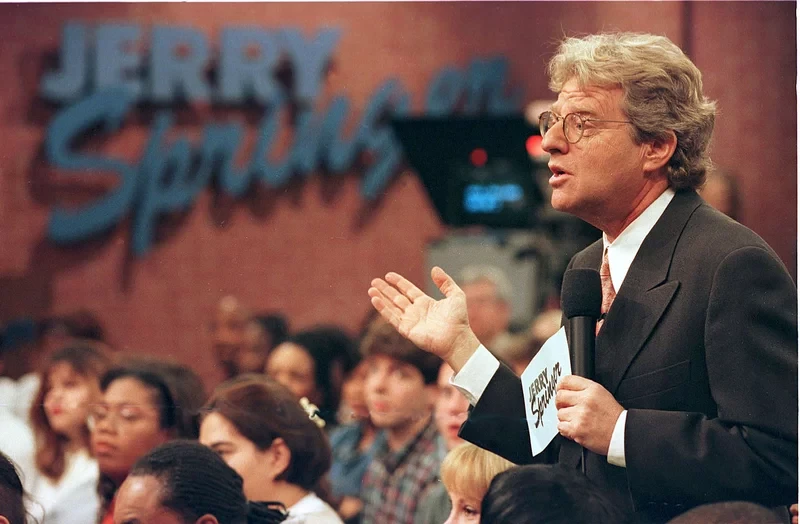 Jerry Springer, talk show host and former Cincinnati mayor, dies at 79.
Jerry Springer, a broadcaster, author, politician, journalist, actor, lawyer and host of a daytime show so outrageous he once apologized by saying it "ruined the culture," died today at age 79 in his suburban Chicago home after a brief illness, according to a statement from his family.
Though he had a lot of high-profile jobs over his lifetime – including mayor of Cincinnati – Springer was best known as host of The Jerry Springer Show, a syndicated TV program which lasted for 27 years, featuring provocatively sensational topics and confrontations among the guests, sometimes degenerating into fistfights.
Springer started his talk show in 1991 as a more conventional affair. Dressed in a suit and tie with glasses, he looked like a younger version of talk-TV titan Phil Donahue, and questioned guests while roaming the crowd with a wireless microphone in the same way.
But over time, Springer began to feature more outrageous guests and subjects, with cheating spouses, open racists, and button-pushing, explicit issues guaranteed to spark arguments.
Success in a televised circus
The show's success became one of the pillars of the tabloid talk show movement which included hosts like Maury Povich, Sally Jessy Raphael, Jenny Jones, Montel Williams and Morton Downey Jr. Springer, a likable, charismatic guy with a conventional look and just-asking-questions manner, always came across as a more buttoned-down counterpoint to his outrageous guests.
Born Gerald Norman Springer in London England, he emigrated to Queens, N.Y., at age 4 with his family, eventually graduating from Tulane University and Northwest University Law School by the late 1960s.
He practiced law in Cincinnati, eventually getting elected to the city council in 1971; by 1974 he had to resign, admitting he'd paid a sex worker by check, but was re-elected in 1975. And in 1977, he served for a year as mayor of Cincinnati.
But the show's circus-like atmosphere – in which participants sometimes seemed to step onstage knowing they were expected to be disruptive and fight – could have serious consequences. The show was sued in 2002 by the son of a former guest who was killed by her ex-husband after the episode she appeared on was broadcast. And the program was also sued in 2019 by the family of a man who killed himself after appearing on an episode where his fiancée admitted cheating on him.
Talk Show Host Jerry Springer Plays Not My Job
In an interview last year with the Behind the Velvet Rope podcast, Springer apologized for the impact of the show, saying, " What have I done? I've ruined the culture...I just hope hell isn't that hot, because I burn real easy."
But the host's brash good humor could also deflect critics. When I interviewed him again in 2012 for the Tampa Bay Times, I asked about normalizing violent behavior for viewers. He had a ready response:
"Our show, every day is a morality play where the good guys win and the bad guys lose... I would argue, when you have shows or movies with violent behavior and all the people are really beautiful and sexy looking, that could inspire a kid. There's never been a human being who watches our show and says, 'Boy, I wanna be just like that when I grow up.'"