The First All English Newspaper in Kumamoto City, Japan
Exchange emails with a native speaker of English
If you really want to improve your English skills, you should practice exchanging emails with a native speaker. Answer the questions below and send your answers to one of our staff members. You can also practice your speaking by skype or meeting in person.
Topic: Working
1. Do you mind working overtime?
2. What do you like about your job?
3. What do you hate about your job?
4. Do you wear a uniform at work?
5. Do you like your boss?
6. Have you ever had a part time job?
7. What does your mother do for a living?
8. What does your father do for a living?

Send your answers to someone on our staff. We will correct your English and answer you. Write the staff's name in the subject. Email: bluehillesl@yahoo.com
Male Female
David (USA) Sharon (Canada)
Randall (USA) Lisa (Canada)

Grammar 1
go out of your way = to do more
Ex. I'll go out of my way to take you home.
1. I'll go out of my way to find you a teacher.
2. I went out of my way to find you a ride to the park.
3. I went out of my way to find you an apartment.
4. I went out of my way to get you tickets to the concert.

Grammar 2
Ex. end up = your new plan
1. It rained so we ended up going to a restaurant.
2. Class was canceled so I ended up staying home and watching movies.
3. The restaurant was closed, so we ended up staying home and cooking dinner.
4. My car didn't work so I ended up riding my bicycle.

Foreigner's Voice
I was at the gym last weekend with one of my friends from Canada. My friend asked the staff about getting in the pool. The lady on staff told him he had to wear a swimming cap. It was obvious that he was bald. The rule of wearing a swimming cap must be to prevent hair in the pool. Since it was obvious that he was bald, it didn't make sense that he was required to wear a swimming cap. Perhaps the rule for wearing a swimming cap was not to prevent hair in the pool. It seemed that the staff also did not understand the rule because they insisted that my friend wear a swimming cap. It is nice to have rules or we would have chaos in society. Although rules are nice, at times that need to be bent for special circumstances. What made this incident so funny is my friend had a full grown beard. More hair would have fallen out of his beard than off his head. Japanese are so strict with their rules that they don't use common sense.
English Idioms
Idiom 1 - break a leg = wish someone good luck
Example:
Sam: I'm going to audition to be in a commercial.
Ben: I hope you get it. Break a leg.
Idiom 2 - Spill the beans = to tell a secret
Example:
Jill: Don't tell mom about the surprise birthday party for her.
Ray: I think Tom already spilled the beans.
Idiom 3 - chicken out = to not do something because of fear
Example:
Charles: Will Ron get on the roller coaster?
Rachel: I think he will chicken out because the roller coaster is fast.
Idiom 4 - eat like a horse - to eat a lot
Example:
Student: James ate like a horse when he came home.
Teacher: He was really hungry.
American Culture
The Harlem Globetrotters are not a professional basketball team. They are a group of men and women who entertain using basketball. The uniforms and jokes are basically the same and haven't changed in more than 50 years. They like to get the audience involved in their jokes. Each player has a special skill with the basketball. All of the players have nicknames like "helicopter" and "speed." The Harlem Globetrotters perform in arenas around the world. During their performance, they play a game with another basketball team. The other team players are paid to go along with the jokes and tricks and not get angry. They are also paid not to win the game or disturb the tricks by the Harlem Globetrotters. The Harlem Globetrotters are loved by children and adults. They usually bring a child or adult from the audience to play with on the court. They will even take a handicapped child on the court to have fun.
George Washington Carver
George Washington Carver was born in 1864 on the Missouri plantation of Moses Carver. From childhood George had a love of plants and was determined to become a scientist.
After high school George Washington Carver worked and saved money for the time when he could continue his education. To pay his way through his first year of college, he opened a one-man laundry for his fellow students. He paid for all of his college education by his own hard work. When he was over twenty-five years old, he graduated from college with degrees in agriculture.
Carver also showed talent in painting. In 1893 four of his paintings were shown at the World's Fair in Chicago.
Carver spent the rest of his life working and teaching at the Tuskegee Institute. He taught southern farmers that by growing crops other than cotton they could improve their farm land. Carver told them to plant peanuts and sweet potatoes. George Washington Carver went on to discover 325 different uses for peanuts and 118 different products made from sweet potatoes. Through scientific research and teaching, George Washington Carver helped many people.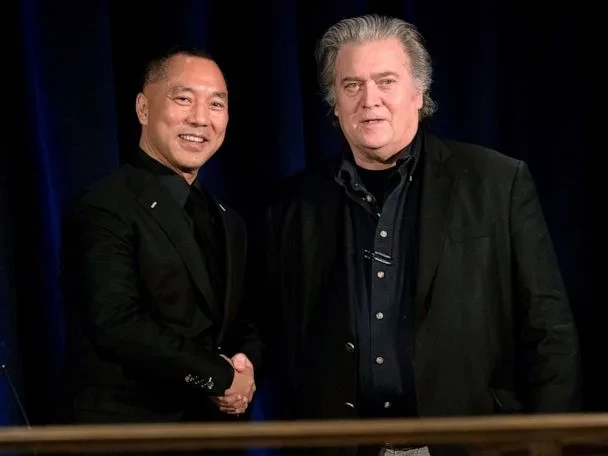 Guo Wengui, an exiled Chinese billionaire has been arrested on federal charges in New York. Guo owned the 152-foot-long- yacht. He along with Steve Bannon have been under FBI investigation in connection with the GTV Media Group, which the Securities and Exchange Commission previously accused of violating securities laws. The FBI arrested Guo, also known as, Ho Wan Kwok Wednesday morning on charges that he orchestrated a $1 billion fraud. Kwok is charged with lining his pockets with the money he stole, including buying himself, and his close relatives a $50,000 square foot mansion, a $3.5 million Ferrari and even two $36,000 mattresses and financing a $37 million yacht. Since around April 2020, Guo has conducted fraudulent securities offerings that collectively raised at least hundreds of millions of dollars from investors in the United States and around the world. Guo is now 54 years old and was arrested at 6 a.m. at his $32 million apartment. Guo is a critic of the Chinese government and he fled China in 2014 and is viewed as a fugitive by the PRC.
Chevy Chase: Betty, how about lunch at the in-and-out burger?
Betty: I'm not hungry.
Chevy: Alright, forget the burger. How about just the in-and-out? Very well, how about just the in?
Boss: Fletch, answer your phone.
Fletch: In-and-out burger. May I take your order please?
Lady: Mr. Irwin Fletcher, This is Amanda Ray Ross. I represented your aunt Bell Fletcher.
Fletch: Good old aunt Bell. How the hell is she?
Lady: She's deceased Mr. Fletcher.
Fletch: Oh, I guess she could be better.
Lady: You're a hard man to find.
Fletch: I was touring with the Stones. What can I do for you?
Lady: Didn't you get my message?
Fletch: No.
Lady: I'm the executor of your aunt's will and as such I can inform you that you are the major beneficiary of you aunt's estate, Belle Isle.
Boss: What is this expense? $58 for leg waxing? That's bullshit.
Fletch: Yea, but Frank feel how smooth they are.
Lady: It consists of 80 acres of old plantation property.
Fletch: Wait a minute. Wait a minute. Did you say plantation?
Lady: Yes, indeed.
Fletch: She left it to me?
Lady: According to her will, she did.
Fletch: Can I get back to you?
Boss: Hair by Ziggy? Who's Ziggy?
Fletch: 5-0-4. Shut up Frank. I'll get right back to you.
Boss: Can't we at least return some of this? How about the lingerie?
Fletch: I ate it.
Boss: Be serious for one minute ok.
Fletch: I quit.
Boss: I'm not unreasonable about legitimate expenses.
Fletch: I quit Frank.
Boss: On the sewer story, I'm going to advance you for the hip boots and the wet suit.
From the movie Fletch
Youtube: Fletch Lives (Fletch Quits)
Genre: Comedy