The First All English Newspaper in Kumamoto City, Japan
Exchange emails with a native speaker of English
If you really want to improve your English skills, you should practice exchanging emails with a native speaker. Answer the questions below and send your answers to one of our staff members. You can also practice your speaking by skype or meeting in person.
Topic: Food
1. Do you know any good restaurants in your city?
2. Do you mind when people take a sip of your drink?
3. Do you mind when people taste your food?
4. When you look at a menu, can you make up your mind quickly?
5. Do you prefer meat or seafood?
6. Are there any foods that you don't like?
7. What toppings do you like on your pizza?
8. Can you cook?

Send your answers to someone on our staff. We will correct your English and answer you. Write the staff's name in the subject. Email: bluehillesl@yahoo.com
Male Female
David (USA) Sharon (Canada)
Randall (USA) Lisa (Canada)

Grammar 1
Give it a try = try for the first time
Ex. Do you want to give bunjee jumping a try?

1. Let's give rock climbing a try.
2. Do you want to give scuba diving a try?
3. Let's give skydiving a try.
4. Let's give Thai food a try.

Grammar 2
have in common - both like or dislike
Ex.

1.Q. What do you have in common with your mother?
A. We both like to talk.
2. Q: What do you have in common with your father?
A: We both like watching baseball.
3. Q: What do you have in common with your sister?
A: We both don't like camping.
4. Q: What do you have in common with your girlfriend?

A: We both like going to the movies but we both don't like horror movies.
Foreigner's Voice
I went to the park last weekend to kick the ball around and have fun. When I got to the park, I was surprised to see such a long sign of thing that were prohibited in the park. The sign said, "No fireworks, no bicycles, no soccer, so baseball, no barbeques" and some other things on the sign. There were so many things you couldn't do at the park, I felt like writing on the bottom of the sign, "So smiling, No fun." Since the sign took away all the fun things to do at a park, they should have suggestions of what is allowed at the park. At some parks, the sign says, "To not annoy others", but I don't understand if there is no one else at the park, who exactly are you annoying. Since most parks in Japan do not have grass, it doesn't make sense to not allow fireworks. If a fireworks lands on dirt, it won't start a fire. Parks in Japan are some of the most boring places perhaps in the world. If you are alone and playing soccer in the park, the game can stop if someone else comes to the park. If you are not bothering or even near someone else, continue playing soccer. It is nice to have rules, but the Japanese seem to overdue it with rules.
English Idioms
Idiom 1 - change of heart = change one's opinion
Example:
Sam: I don't want to go to the concert.
Ben: I hope you have a change of heart and go.
Idiom 2 - Easy on the eyes = good looking; cute or handsome
Example:
Jill: I think your girlfriend is easy on the eyes.
Ray: She is easy on the eyes. That is why I asked her out.
Idiom 3 - coach potato = a lazy person
Example:
Charles: Ray is so lazy, he never helps.
Rachel: He's a coach potato. He just watches videos all day.
Idiom 4 - kick the bucket - to die ( not used for someone you loved)
Example:
Student: I heard Michael Jackson died yesterday.
Teacher: Yes, he kicked the bucket yesterday.
American Culture
Bull riding is quite common in America. It is mainly popular in states like Colorado, Wyoming, Texas, Nevada, New Mexico and Arizona and other western states. The event is generally called a rodeo. Anyone is allowed to go and watch the rodeo. It starts with the bull in a cage with the top open. Then the bull rider gets on the bull. When the bull rider says "OK" or gives the thumbs up, the gate is opened. The bull rider's goal is to stay on the bull as long as he or she can. This event used to be for just men but is it now open to women to compete. There are a lot of women who ride bulls in America. Once the bull rider is bucked off the bull, there are rodeo clowns to keep the bull rider safe. The job of the rodeo clowns is to distract the bull so the bull rider can get to safety. There are barrels in the arena for the clowns to jump in for their safety. Most people who ride bulls are referred to as a cowboy or cowgirl.
Dr. Ralph Bunche
On August 7, 1904 Ralph Johnson Bunche was born in Detroit,
Michigan. When his parents died, young Ralph, his sister and grandmother moved to Los Angeles, California. His grandmother worked hard as a seamstress so that Ralph could stay in school and get a good education.
Throughout high school Ralph excelled in sports and his studies. He did so well that he received a four year college athletic scholarship and went on to complete a doctoral degree in government at Harvard University. Grandma Johnson died just before he left for Harvard. He knew that he could best repay her for her hard work and faith in him by continuing his studies.
After graduating, he worked for the United States government. He studied other governments, helped start the United Nations and worked hard to keep peace between countries. In 1950, he was the first African American to win the Nobel Peace Prize. He once stated that "all human beings should act towards one another in a spirit of brotherhood."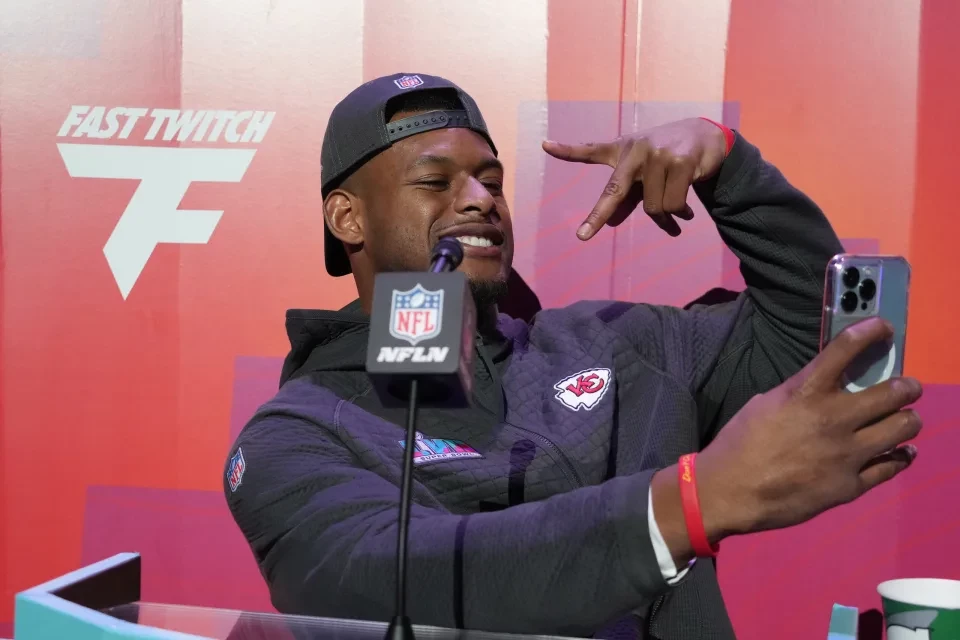 Wide receiver Juju Smith Schister played just one year with the Kansas City Chiefs. Now, he is moving on to another AFC team. Schuster has agreed to a three-year contract with the New England Patriots. The 26-year-old receiver announced a new chapter in his life in Twitter. He followed the tweet with a message to Kansas City thanking them for an exciting, successful and unforgettable season of his NFL career. Schuster will finish his career with the Chiefs with 14 regular season games started, 78 receptions for 933 yards and three touchdowns. Most of his production came in Super Bowl LVII. He will leave Kansas City as a champion and a key opponent in their offense during the 2022 season.
Louis: Breakfast time at San Quentin is a carefully regimented operation where more than 2,000 inmates are fed in a series of 20-minute sittings and given brown bag lunches to eat later in their cells. I was going to be eating with 2 of the members of the Barbarian Brotherhood who I met in yard. I was hoping to learn more about how the gangs work inside prison and looking forward to my first taste of prison food. What is this?
Inmate 1: Looks like potatoes.
Louis: What is this?
Inmate 1: It's supposed to be SOS like gravy.
Louis: Gravy?! Do you see the politics of the place right now?
Inmate 1: All blacks at one table. All whites at one table.
Everybody keeps an eye on watches. I watch kids. I watch anybody taking trays, like taking food of another person's tray. If you offered me some of that food, I couldn't take it.
Louis: Why?
Inmate 1: It's just part of the rules man.
Louis: Prison rules?
Inmate 1: If you did, you get beat up.
Louis: Who would beat me up?
Inmate 1: Me. This guy.
Louis: You would really do that?
Inmate 1: Yeah. We got to get ya. We tell you first. Then we get you.
Louis: How?
Inmate 1: We would mob you. We would attack you.
Louis: Three duded would come up and attack me and pummel me? How bad?
Inmate 1: Until the cops stop them.
Louis: You really mean it. You really mean it? Why would you do that?
Inmate 1: Tell him Nick.
Inmate 2: That is just how it is.
Inmate 1: I'm hungry man.
Louis. It was hard to believe that they could so brutal over something so trivial. But I wondered if these strange codes of conduct were a way of creating gang loyalty and comraderie surroundings to keep inmates apart. So what is the plan now? You go back to your cell?
Inmate 1: For the rest of the day.
Louis: That's it. See you later guys.
From youtube: Mealtimes at San Quentin prison - Louis Theroux
Genre: Crime and Punishment