The First All English Newspaper in Kumamoto City, Japan
Exchange emails with a native speaker of English
If you really want to improve your English skills, you should practice exchanging emails with a native speaker. Answer the questions below and send your answers to one of our staff members. You can also practice your speaking by skype or meeting in person.

1. Have you ever been to Disneyworld?
2. Have you ever been to a funeral?
3. Have you ever been to a wedding?
4. Have you ever met a famous person?
5. Have you ever been to a professional sports game?
6. Have you ever talked back to your parents?


Send your answers to someone on our staff. We will correct your English and answer you. Write the staff's name in the subject. Email: bluehillesl@yahoo.com
Male Female
David (USA) Sharon (Canada)
Randall (USA) Lisa (Canada)

Grammar 1
keep in mind = remember
Ex. Let's have a party. Keep in mind most people coming are in college.

1. Invite a lot of ladies but keep in mind the men are in their early 20s.

2. Give him a good room. Keep in mind he is a gold member.
3. Let's build a house near the beach. Keep in mind there are a lot of hurricanes.

Grammar 2
even if =
Ex. Even if you pass Eiken 1, it doesn't mean you are a native speaker.

1. Even if it rains, we will still have a barbeque.
2. Even if the men are married, they will still come to the party.
3. Even if you are not too smart, you will understand the lecture.
4. Even if you can't swim, you can still come to the pool party.
English Idioms
Idiom 1 - when pigs fly = something you think will never happen
Example:
Sam: Is your husband going to buy a new BMW?
Ben: Yea when pigs fly.

Idiom 2 - the lights are on but no one is home = to describe someone who is not smart
Example:
Jill: Did Mark learn how to fix the car?
Ray: No, the lights are on but no one is home.

Idiom 3 - see eye to eye = to agree
Example:
Charles: Are you still dating Paul?
Rachel: No, we couldn't see eye to eye on many things.

Idiom 4 - cost an arm and a leg - very expensive
Example:
Peg: Did you buy a new car?
Donna: Yes, and it cost me an arm and a leg.
Asian man: Kara. It's so sweet you got these onesies for all the kids.
Kara: You know he's going to be a heartbreaker, just like his dad.
Lady 1: Oh look. They are like a tiny little baby couple.
Dad: Not to assume. Maybe that's weird for you guys. I'm sorry.
Gay man 1: No, we think it's cute.
Narrator: You love seeing your little one as a future heartbreaker. But what if you don't want to assume your baby is going to be straight?
Now you don't have to. With the new formed this way line by Osh Kosh B'Gosh your little tyke will look adorable with sayings like "future twink", "Lil lez", "Messy DJ" and "in the closet because I can't walk."
Mother: Doesn't he look great? I pray to God my son is gay.
Father: I would love that.
Narrator: Born this way has designs that you will love like wordplay "Rock a bi baby.", "My mommy had a daddy", political statements like "I love milk. Harvey milk. RIP." "Silence = violence ; Crying = hungry", "Alexander Hamilton was a turf." and butch.
Man 1: What is this? A tiny beltloop for a ring of keys. This slays.
Father: Some parents force their kids to wear little sports jerseys. My son can be whoever he wants.
Gay man 2: Imagine boxing a child into something that doesn't feel right? I would hate that.
Lady 1: It's so archaic to pierce your baby's ears for their baptism. Our kids will never have to conform to something they don't want. Thanks born this way.
Lady 2: It looks like they are dating.
Gay man 1: Oh please, they are not exclusive. You know how gay guys are.
Narrator: Born this way by Osh Kosh B'Gosh. Oh relax. It's not like they can read.
From the TV show Saturday Night Live" - comedy

Michigan
I live in Michigan. It is a state in the Midwest. Michigan is famous for the Great Lakes, cars, apples,
cereal, fishing and nature. It is the 11th largest state. That makes it one of the biggest. It is 8th in population, which also makes it one of the biggest in this respect. You might know some of the major cities, like Detroit, Ann Arbor, Grand Rapids or even Battle Creek, the original home of Kelloggs, Post and Ralston Cereals. The state capital is Lansing and it is nicknamed The Great Lakes State. Now that you know some of the basic facts about Michigan, let me tell you a little more about my state.
Michigan is one of the northern states in our country, one of about a dozen that border Canada. There are several places you can get to Canada from Michigan by boat or by car. Michigan is pretty interesting because it is a divided state. The Lower Peninsula is the bigger half. It looks a lot like a mitten on account of its shape. The Upper Peninsula is surrounded by three of the Great Lakes. You can take ferry boats across the water to go from one peninsula to the other, or you can drive across the Mackinac Bridge. Built over 50 years ago, it was the longest suspension bridge in the world for quite a while. It's pretty nice to see.
Because of its location on the Great Lakes, Michigan is pretty important for shipping. Many things go by boat from Michigan to the rest of the country. If you get on a boat in Michigan, you can go all the way down the St. Lawrence River and out into the Atlantic Ocean. The Great Lakes are five very large lakes. Together, they are the largest group of freshwater lakes in the world. They have about 20% of the world's fresh water. Four of them surround Michigan's two peninsulas. They are Lakes Superior, Huron, Michigan and Erie. Lake Ontario is the only one of the Great Lakes not touching Michigan.
If you visit Michigan, you can see a lot of outdoor charm. It has four seasons, and all of them can be pretty. There are copper and iron mines in the Upper Peninsula, and there is a lot of fishing, camping and swimming to be done. You can also ski, snowmobile and sled in the winter. There really is something to do in every season in Michigan.
You can also visit the Motor City. Detroit is important because of car companies. There is a lot of automotive history there. General Motors, Ford and Chrysler all have history there. The Big Three American car companies used to make most of their cars in Detroit and ship them to the rest of the country on trains. That is why Detroit is still known as the Motor City. It has pro sports teams in Detroit for ice hockey, baseball and football.
Now that you know a little more about Michigan, are you thinking about visiting? It is a great place to spend some time outdoors. Hope to see you soon!
The leaders agreed to resume regular visits and resolved a long-running trade dispute. Japan agreed to lift restrictions on exports of semi-conductor materials, while South Korea withdrew its complaint to the World Trade Organization (WTO).

South Korean President Yoon Suk Yeol pulled off quite the coup to get this summit. This is the first time a South Korean leader has been invited to Tokyo for such a meeting in 12 years. The relationship between these neighbours has been plagued for decades by their difficult history. South Korea was colonised by Japan from 1910 until the end of World War Two. Japanese soldiers forced hundreds of thousands of Koreans to work in its mines and factories. Women were pushed into sexual slavery.
These scars, while no longer fresh, are not forgotten nor forgiven here.
But last week, President Yoon dropped the demand that Japan compensate some of the victims of its slavery. He agreed South Korea would raise the money instead. In doing so he sought to put aside the past for the sake of the security of northeast Asia.
The opposition leader branded the deal the "biggest humiliation in our history". But it won President Yoon this trip to Tokyo. Diplomats here are quietly surprised and impressed. They see it as a brave and astute move, especially for a political novice, with no foreign policy experience. Until last year, Mr Yoon was a lawyer.
Since taking office, he has made repairing this fractured relationship a cornerstone of his foreign policy. With nuclear-armed North Korea becoming more dangerous, Seoul stands to benefit from sharing intelligence with Tokyo and having their militaries work together.
He also wants to please his ally, the US, which is desperately trying to draw its partners closer to combat the rise of China. President Joe Biden hailed Mr Yoon's Japan deal as "a ground-breaking new chapter". The next day he sent him an invitation to the White House for a prestigious state visit.
This also signals a fresh chapter for South Korea's place in the world. President Yoon wants to end what he sees as his country's tunnel-vision over North Korea. Instead he is looking outwards, across the Indo-Pacific, at the bigger role South Korea can play. An invitation by the Japanese Prime Minister Fumio Kishida to May's G7 summit in Hiroshima would be a mission accomplished.
There are economic rewards to be reaped too. In 2019, when relations were particularly sour, Japan imposed export restrictions on the chemicals Seoul needs to build its semi-conductors. Getting these lifted was a top priority, briefed a senior government official ahead of Thursday's meeting.
This summit offers a chance to repair years of broken trust. So far Seoul has conceded more than Tokyo. As one senior diplomat put it to me, South Korea has walked across the dancefloor, lights on, everyone watching, to ask its neighbour out. Japan has agreed to dance. But South Korea is expecting more.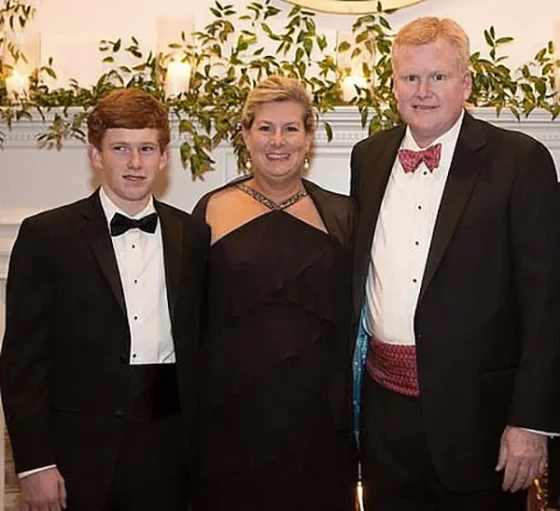 For more than a year, a central question swirled around the fatal shootings of the wife and son of disgraced South Carolina personal injury attorney Alex Murdaugh: Who killed them?
The unsolved slayings of Margaret, 52, and the couple's younger son, Paul, 22, in June 2021 shattered the immaculate image of the well-connected legal family in South Carolina's Lowcountry. Murdaugh, whose father, a grandfather and a great-grandfather were each elected as top prosecutors in the region in roles collectively spanning almost 90 years, immediately denied culpability in the deaths.
Still, the slayings set off a bizarre chain of events that officials say included Murdaugh hiring a man to kill him so his older son could collect on his life insurance policy, and dozens of charges against Murdaugh accusing him of financial crimes.
Investigators shared few details and named no suspects or persons of interest in the slayings. But then in July 2022, a grand jury indicted Murdaugh on double murder charges in connection with the deaths of Margaret and Paul, authorities said, capping a long-winding mystery marked by conflicting narratives and a web of other questionable deaths that has yet to be fully untangled.
The double murder trial began in January and after about six weeks of testimony, Murdaugh was found guilty of murder in the deaths of his wife and son.
Cemeteries in America are in designated places. Instead of having small cemeteries in random places, it is best to have all the dead bodies in one area. Visitors can visit their loved ones at any time. Some cemeteries are so big that the tombstones are placed like addresses. You might need a map from the cemetery to locate your loved one.